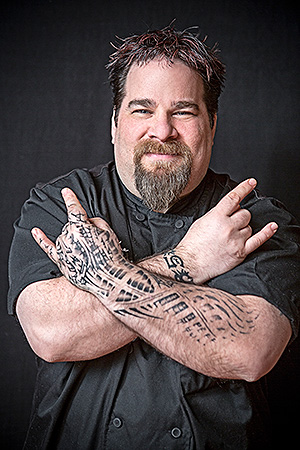 Eric LeVine, the "fire it up" chef is challenging everything you thought you knew about casual dining. As the owner of two successful restaurants and author of "Small Bites Big Flavor: Simple, Savory, And Sophisticated Recipes for Entertaining" Chef Eric is all about explosive flavor combinations which is why all of his meat is sourced from local farms that vow to raise their animals hormone/cage-free, his greens are from local hydroponic farms, and his menu options change based on seasons.
A graduate of The Culinary Institute of America in Hyde Park, New York, Chef Eric was recognized by The James Beard Foundation for his contributions to the gastronomic culinary scene in the United States and nominated for Outstanding Chef of Year.
RR: How did you get your start in the restaurant business, what's kept you in it, and did you ever think it would go the way it has?
I started cooking in restaurants in Brooklyn as a kid at 11. I always had a passion to cook, my grandmother was an amazing cook and you could see it every day in everything she cooked. She had that love in everything she made. The kitchen was always a place for me. It made me feel comfortable. I always have known that this business was in my DNA, it is in my blood. I always knew that I could make an impact in the food industry by my hunger to continue to learn and educate myself on trends and new ideas to build from. I always strive for more. Today, I'm proud to say I own two restaurants, Morris Tap & Grill and Paragon Tap & Table, a ravioli company and two cookbooks.
RR: What do you think it takes to be successful restaurateur in 2016?
First and foremost it is dedication. Dedication to your team, your customers. You need to put them all before your ego. Customers drive the bus in what we do, my teams are the engines that make it happen, my business partners are the fuel, the oxygen. Listening to your customers, listening to your team every day. What can we do to make the customers experience the best it could be, what can I do to make my team more productive, happier and better educated.
RR: Talk about the challenge of customer service in restaurants today.
Customers are lot more savvy than ever before. They are more aware of the industry than ever before. There are many, many options from high end to fast casual. This is something I love because it keeps us moving forward in trying to give better service, better food and an overall better experience. There is a perception that the customer is always right. That's not always the case. The customer isn't always right, they are however always the customer, and we are in a customer driven industry. For an example, we offer a Pork Stick at my restaurants which is a bone in shank appetizer, a customer returned it saying they had no idea there was a bone in it. Another challenge is people making reservations for a limited seating event/busy night and not showing up.
RR: What are your thoughts on full service vs. casual and the shifting landscape changes?
Both are needed. I love to play in a higher end kitchen where I can use different methods of cooking and outside-the-box creations. The reality is not everyone can do it and not every restaurant can sustain that level in the market place. I admire the chefs that have been able to carve out that experience and client base, but the reality is, those places are true destination places. I have been blessed to have dined at Per Se, Eleven Madison Park and Alinea - each experience was amazing and unique, a whole other level which is just amazing. The masses are looking for a daily consistent experience. I was talking with my friend and one of my mentors as a kid David Burke about this subject one day and he hit the nail on the head (and remember he was responsible for changing how chefs approach creative thinking in food) when he said people want great food with amazing flavor but food that is familiar. That's so true.
RR: How does local/organic/vegan impact your menus?
We use as much local as we can in the restaurants, we struggle with getting enough products due to our volume but we work hand-in-hand with our hydro farm "Happy Harvest" which is just down the road from us. Vegan options are an integral part of my menus and menu development. I went vegan for a while and it was the greatest/worst experience of my life. Going out for dinner was the worst. All that was offered was steamed vegetables and rice, or pasta with vegetables and marinara. I didn't want my vegan customers experiencing the same thing. So I developed constant changing vegan items as one of the foundations of my menus all the time.
RR: How do you approach hiring, what do you look for in your people and how do you think about retention?
This is a tough one for me because the playing field is never really even, that's not a complaint just the reality. The challenge for us is that we do things by the book, clean, no under the table everything. We offer a very competitive rate but when the guy down the road gives cash or the local chain shells out $3-5 more an hour to a cook worth less how can you compete with that. I look for people who want to grow and learn.
RR: If you could pass on three tidbits to a chef/owner just getting started, what would those insights be?
Have enough working capital, cash is oxygen.
Keep things simple; don't let your ego out think the market place
Learn to listen to your team, they are the front and back line of your success, lots of helpful info and knowledge there.
RR: Work life balance can be a challenge as a chef/owner - how do you tackle it?
I prioritize my time. The past few months, I've gotten myself back in the gym. My mornings are now dedicated to working on my fitness. The gym has given me more strength and has helped me make smarter decisions and be a better leader in the kitchen. That being said I have a hard time not being in my business on a daily basis, it's about leveling up every day. I would never ever expect my employees to care about the business as much as my partners and I, that's unfair.

Quick Bites...
What's your favorite thing about running a restaurant? My energetic restaurant family who every day goes out of their way to help facilitate a great dining experience to every guest. Watching them grow and be the heartbeat of the restaurants.
What's your least favorite thing about running a restaurant? Nothing. If you have any negative feelings about this business then you need to get out. I can't imagine doing anything else.
What book is on your night table right now? Oddly enough its #askgaryvee written by Gary Vaynerchuk. I say oddly enough because he has nothing to do with kitchen life, but I can relate to his discussions, rants and approach to successful business. It's his latest book on leadership, social media and self-awareness. The book and audio book (which is even better because it's him discussing the things in the book but even more in depth). While Gary has had massive amounts of more success than I have I can relate to his talks and messages in my own business life.
Who is a role model for you? I don't have a role model, I have people that I have great respect for in and out of my industry such as Gary Vaynerchuk, Andy Frisella, Chase Jarvis. People who have a similar drive, passion and hustle as I do.
Best advice you've been given? Stop playing checkers and start playing chess by the late great Mike Roman, founder Catersource.

Eric LeVine, Multi-award Winning Chef, Restaurateur and Author - www.ChefEricLeVine.com
---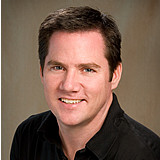 Jaime Oikle is the Founder of RunningRestaurants.com, a comprehensive web site for restaurant owners & managers filled with marketing, operations & service tips to help restaurants profit and succeed.